05.14.2021
During May of this current year, the DAO IPCI protocol will receive an important upgrade that will include: (1) new network functionality for the deployment of green financial instruments, (2) functionality improvements for connecting IoT data sources for MRV, (3) integration of the technical committee model, (4) integration of the treasury model for launching an extended native token distribution program among the community, (5) and of course, a fresh Substrate version so as to not lag behind the Parity developers. 
Each update will be explored in more detail further below.
Green bonds in the DAO IPCI Blockchain
Green and sustainable bonds are fixed-income debt financial instruments aimed to support environmental or other SDG-aligned projects. Their unique feature is strict reporting on social and environmental impact (e.g. measured in GHG emissions reduction in CO2 equivalent). 
A unique feature of sustainability-linked bonds is that their financial parameters are directly linked to the impact achieved by the project. This is a new but rapidly growing asset class that allows linking bond interest rate to SDG indicators. 
The Smart Sustainable Bond protocol developed by Evercity team and launched in IPCI chain enables the whole lifecycle of structuring, issuance and redemption of sustainability-linked bonds including data collection and interest rate recalculation. The logic of financial parameters modification is shown on the graph below. While issuing the bond the project indicates impact baselines (estimates) which are then compared with the real impact data submitted once in a period. If the real data is better that the baseline, the interest rate decreases, and vice versa.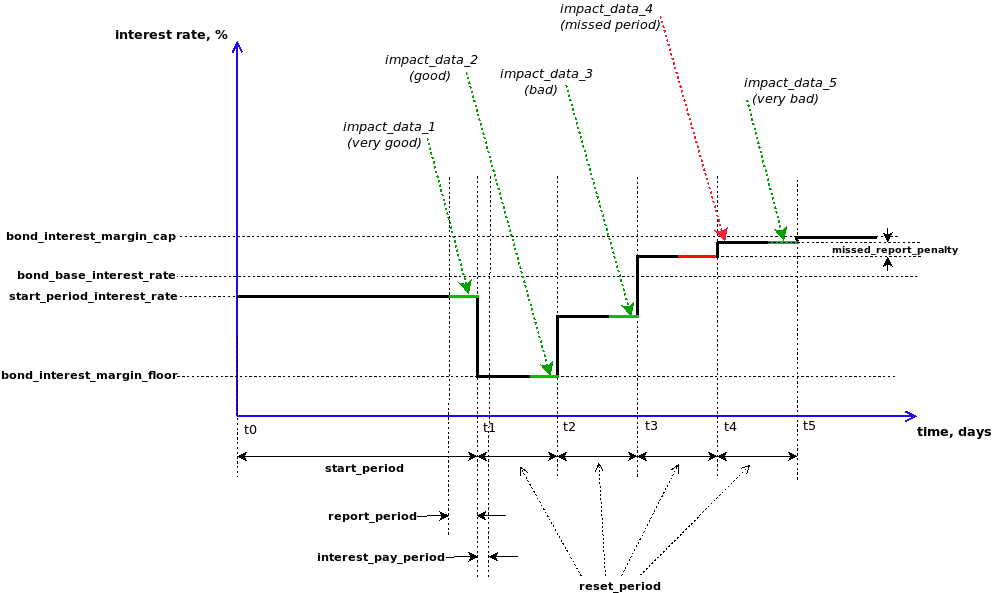 The protocol was developed with grant support from the Web3 Foundation. Currently the Evercity team is taking part in Techstars Accelerator and testing the solution with a range of banks and exchanges. Commercial launch of the project is planned for autumn 2021. 
IoT functionality improvement for MRV
Over the course of the last 12 months, the DAO IPCI Blockchain was used in a local experiment by Robonomics developers to build a public sensors network in the town of Togliatti, located in the Volga region of Russia. Autonomous IoT sensors that measure air pollution recorded data to the DAO IPCI Blockchain more than 74,000 times - https://youtu.be/7CdyJ8DqMqc
As a result of such lengthy tests, interesting and peculiar qualities pertaining to the creation of decentralized applications for working with such volumes of data were revealed.Tools such as RoSeMan (node.js software with substrate Blockchain sensors for data collection) and sensors.robonomics.network were created. 
In addition to the specifics of working with big data in a blockchain network, Robonomics developers were able to uncover problems in the datalog() function when it is used by one device in volumes of thousands of transactions. The issue was remedied and is already included in the current releases of Robonomics. It will soon be delivered to the DAO IPCI network. 
After the May 2021 update, the DAO IPCI network will receive a full set of open-source software tested on real world scenarios of creating a sensors network to provide automatic monitoring functions of objects involved in the issuance of green financial instruments. We checked the work of such a monitoring system on a network of air pollution sensors. However, the developed software is universal and can be used to monitor industrial facilities as well as renewable energy sources. 
DAO IPCI Blockchain Technical Committee
Using Substrate, developers have the opportunity to implement ready-made and tested on the Polkadot and Kusama network modules that are important for standard network capabilities. An example of such a model that is already needed is a technical committee. With the help of this model, developers will be able to take privileged action, or in other words, be a superuser. This is needed in order for a specific developer to refuse superuser rights, but at the same time retain the possibility of prompt interference in the operation of a network while bypassing protocol updates on all validators. This ability is extremely important during early stages of project development, so as to not exist in a testnet state forever. The DAO IPCI is a live network that is currently going through its formation, and while the network takes its first steps developers want to have the ability to support it in the case of something unexpected. 
One can learn about the committee's technical capabilities in the main Polkadot documentation: https://wiki.polkadot.network/docs/en/learn-governance#technical-committee  
MITO treasury
MITO is the name of the native DAO IPCI Blockchain token. It is very important to ensure the distribution of tokens in the process of the network formation in order to support project participants during a time when the fate of the project is yet unknown. To start MITO distribution, developers require the most network-integrated mechanism for sending tokens as a result of a collegial decision, including project advisors and most active community members. A treasury module is a perfect solution for these tasks. 
Like a  technical committee, it is a standard module tested on the Kusama network. The integration of this module will allow developers to start actively executing the distribution of native DAO IPCI Blockchain tokens outside of the emission that network validators currently receive. 
Developers previously agreed to adhere to a total emission of 10.000.000 MITO. The main avenues of distribution, as was described in the whitepaper of Doctor Anton Galenovich, will be as follows: 
To distribute the MITO token and provide for the launch of the MITO market,

To  boost  non-commercial  research  and  development  of  socio-economic  and  IT  protocols needed,

To sustain and expand  the DAO IPCI ecosystem,

To provide for incorporation of legal entities for these purposes, 

To  obtain  legal  and  other  professional  expertise  and  services  needed  to  support  implementation.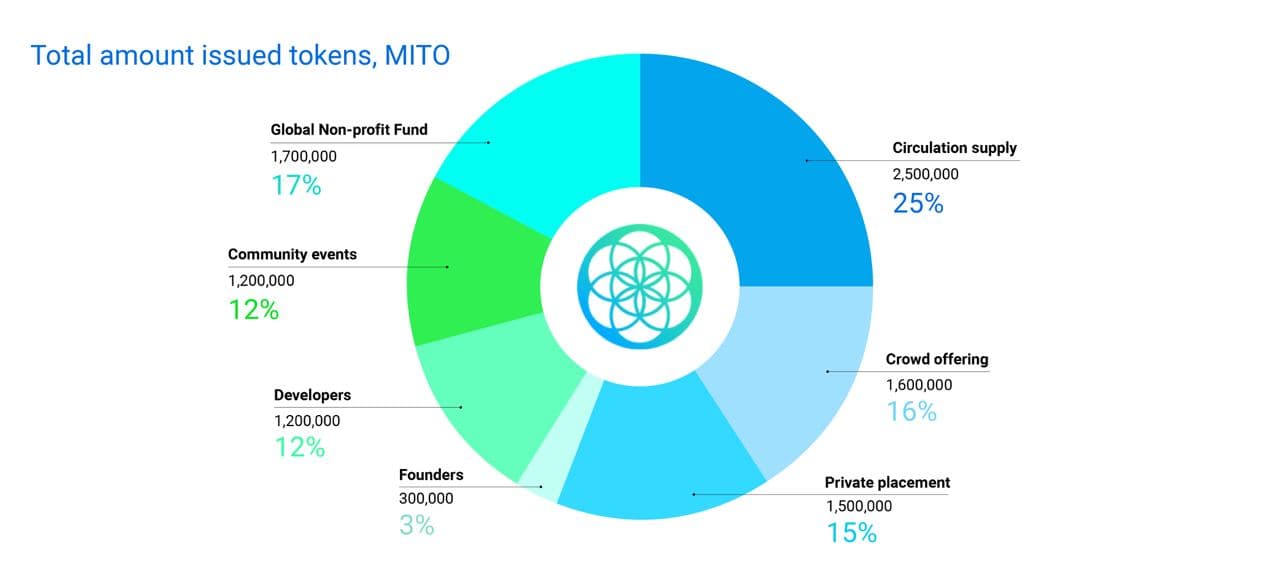 Currently, ~ 2.500.000 MITO have been distributed on the DAO IPCI Blockchain. After deployment of the technical committee module, there will be 10 million tokens, all new ones (~7.5 million MITO) will be stored in the treasury, to which core developers will have access. 
Preliminary 7.5 million MITO distribution plan proposed for discussion within the community: 
| | | |
| --- | --- | --- |
| Total amount issued tokens, MITO | | 10,000,000 |
| Circulation supply | 25% | 2,500,000 |
| Crowd offering | 16% | 1,600,000 |
| Private placement | 15% | 1,500,000 |
| Founders | 3% | 300,000 |
| Developers | 12% | 1,200,000 |
| Community events | 12% | 1,2000,00 |
| Global Non-profit Fund | 17% | 1,700,000 |
Table explanation:
Circulation supply - circulating

MITO

, starting from the genesis block launch last year. Includes the exchange of pre-ICO

MITO

, airdrop for XRT holders, and emissions of new tokens for validators for the first year of the networks life. 

Crowd offering and Private placement - an initial restriction on the distribution of MITO in an ICO format, Dutch Auction or any other public or private token offering based on the network technical committee.

Founders - currently active project participants - want to thank those who helped DAO ICPI starting from 2015, when just the first discussions were taking place. 

Developers и Community events  - initial limitation on the distribution of

MITO

in the form of grants, competitions, and rewards. 

Global Non-profit Fund - a strong non-profit organization that backs DAO IPCI. This is one of our biggest goals and one could say a dream towards which we are striving. This is the most faraway distribution plan from the technical committee. 
Important network validator update
Substrate is developing rapidly, and for the next update, we identified many important changes that will make the work of network node validators incompatible unless they update on the day of the new release All obsolete nodes will be deleted by the technical committee in the prevention of a network form. And at the same time, we'll check the work of the collective sudo 🙂 
Additionally, Robonomics developers will distribute 500 XRT amongst DAO IPCI Blockchain validators. Thus, we would like to support network validators until the introduction of the MITO token in the DeFi segment of Polkadot. 
More information about XRT rewards for DAO IPCI validators will be published later. Follow the updates on the project's Twitter page and website.