02.28.2020
 I. Key-messages
DAO IPCI was established in 2016 to conduct research and develop an open-source Ethereum public blockchain protocol for the global climate finance markets. In 2017 DAO IPCI

enabled

the World's first carbon credit transaction in blockchain and presented it to the global community at a series of the

World Bank

and

UN

forums. 

Since late 2017 our team has been working on IoT-blockchain integration to automate data collection from smart sensors and enable the issuance of digital green finance instruments. Our first ideas on this matter were presented at

Devcon3

in Mexico, and

COP23

, Germany. 

In 2018-19 we have developed and tested solutions for IoT-blockchain integration both in lab conditions and during international pilot projects. This experience was widely presented at the UN Climate Conferences COP24 and COP5 as well as other landmark events around the globe. 

In 2019 and early 2020 we have released new

DAO IPCI updates on GitHub

and launched a new user-friendly

UI

for DAO IPCI DApp.

In 2019, our leader, founder and CEO Dr. Anton Galenovich prematurely passed away. Although the project team members fully acknowledge that he can not be adequately replaced, we intend to continue his mission and commit to the development of his legacy. This being said, DAO IPCI open-source blockchain protocol is now supported by three organizations: AiraLab, Russian Carbon Fund and Evercity, as well as other project partners and supporters. We invite more participants to join.

We have new plans and announcements for the community: we are launching a separate DAO IPCI on Parity Substrate framework to store environmental data collected by IoT devices and perform other functions. We are in the process of restarting the chain from a new Genesis block and announce important information for our community in this article.
II. DAO IPCI 2018 Overview
DAO IPCI co-authored the first book on blockchain for climate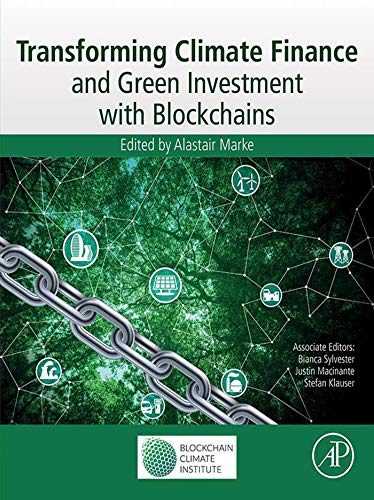 A collaboration of over 40 climate and blockchain experts from more than 20 countries,"Transforming Climate Finance and Green Investment with Blockchains" may be the world's first book to explore the ways in which this revolutionary 'trust machine' can scale and speed up international climate finance flows so important to our planet's survival.
2. Launched the first-ever Blockchain-based Carbon Footprint calculator
DAO IPCI co-founder Anton Galenovich offset the carbon footprint of his air trip for Seoul Climate-Energy Conference.
3. Successfully beta-tested IoT module in Chile
Carbon credits emission in DAO IPCI blockchain has been successfully beta-tested with Energy Lab, Chile. The registered reductions are based on the data on solar energy production received from IoT sensors and grid emission factor. Watch the demo.
4. Won Energy Blockchain Hackathon in Bern, Switzerland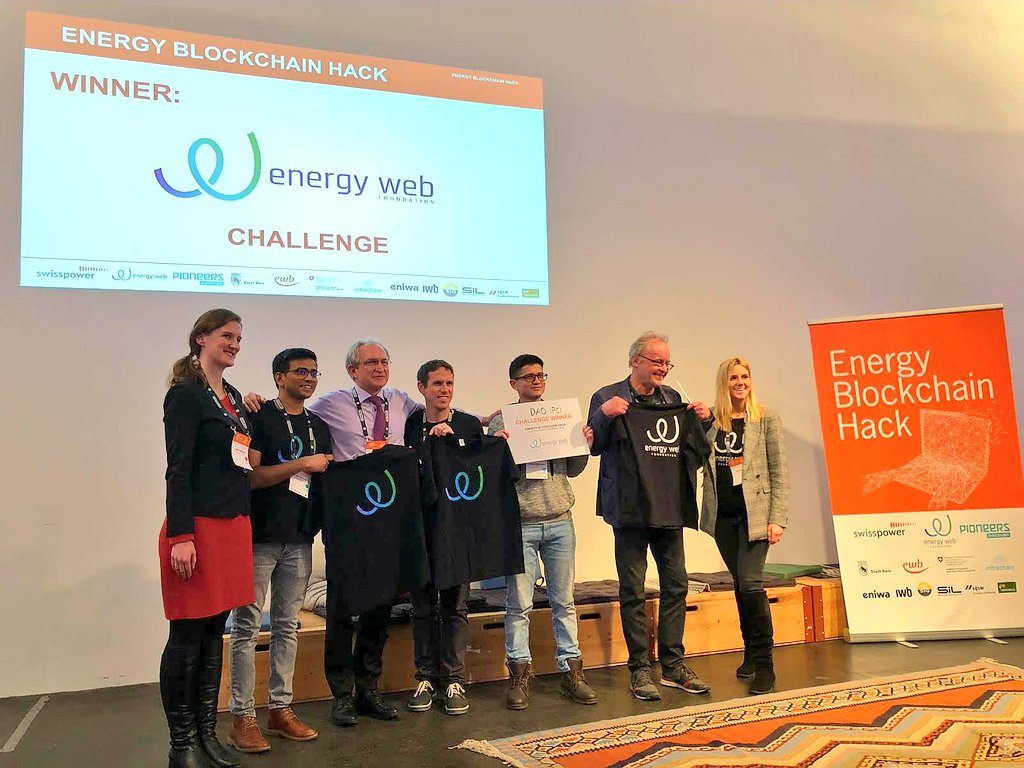 Our team member Alisher Khassanov and leader Anton Galenovich have won the first Swiss Energy Blockchain Hackathon hosted by Swisspower and the Energy Web Foundation by designing a system for calculation and compensation of carbon footprint for the energy sector.
5. Issued new digital carbon credits
In April 2018 fibreboard manufacturer LLC "SWISS KRONO" operating in Russia issued 1.5 mln tradable carbon units in DAO IPCI system. From 1 January 2013 to 30 June 2017 its GHG emissions reduction equalled 1 491 861 tons of CO2, which was confirmed by KPMG. Carbon credits were issued in accordance with Blockchain Climate Standard of the Russian Carbon Fund.
6. Became technical partner of Energy Blockchain Hackathon in Moscow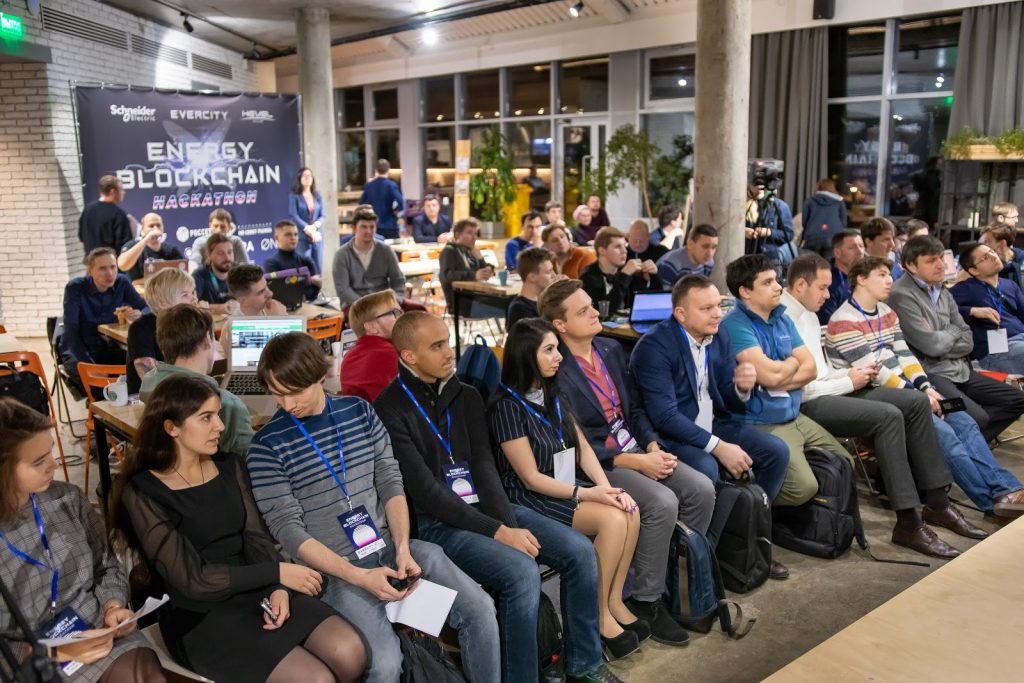 Renewable Energy Credits trading prototype has been released as a result of the Energy Blockchain Hackathon organized by Evercity and Russian Carbon Fund in partnership with Schneider Electric , EDF and Energy Market Council in Moscow. Developers were assisted in using the DAO IPCI stack to issue and trade digital renewable energy credits implementing Robonomics protocol and Parity Substrate.
7. Presented 2018 results at the UN Climate Summit COP 24 in Katowice, Poland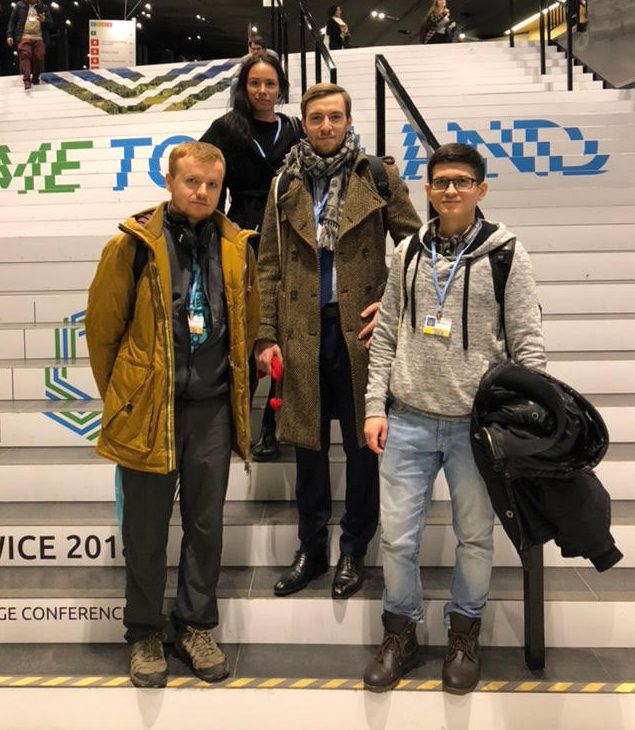 Our team actively participated in the world's most important climate forum with it's blockchain awareness stand and held a series of events: demo workshop, official side event and press-conferences showcasing the 2018 use-cases.
III. DAO IPCI 2019 Overview
1. Issued renewable energy certificates (RECs) in Skolkovo smart city, Russia 
We accessed API of rooftop Hevel 11 kW solar power plant in the Skolkovo innovation zone in Moscow. Using the data on electricity generation, we held a pilot on automatic REC issuance in public blockchain. View video.
2. Our founder and CEO Dr. Galenovich prematurely passed away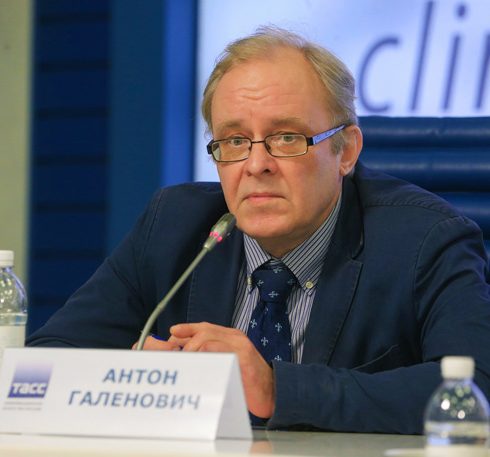 Dr. Anton Galenovich was a man with an open heart, with a high sense of justice and duty to the Planet. Days and nights he  worked on bridging the environmental and climate economics with blockchain and industry 4.0 technologies to help reach Sustainable development Goals and combat climate change. Dr. Galenovich left us his heritage in the form of ideas and research that continue to live as the DAO IPCI Protocol.
3. Issued digital passports of farming products in New Zealand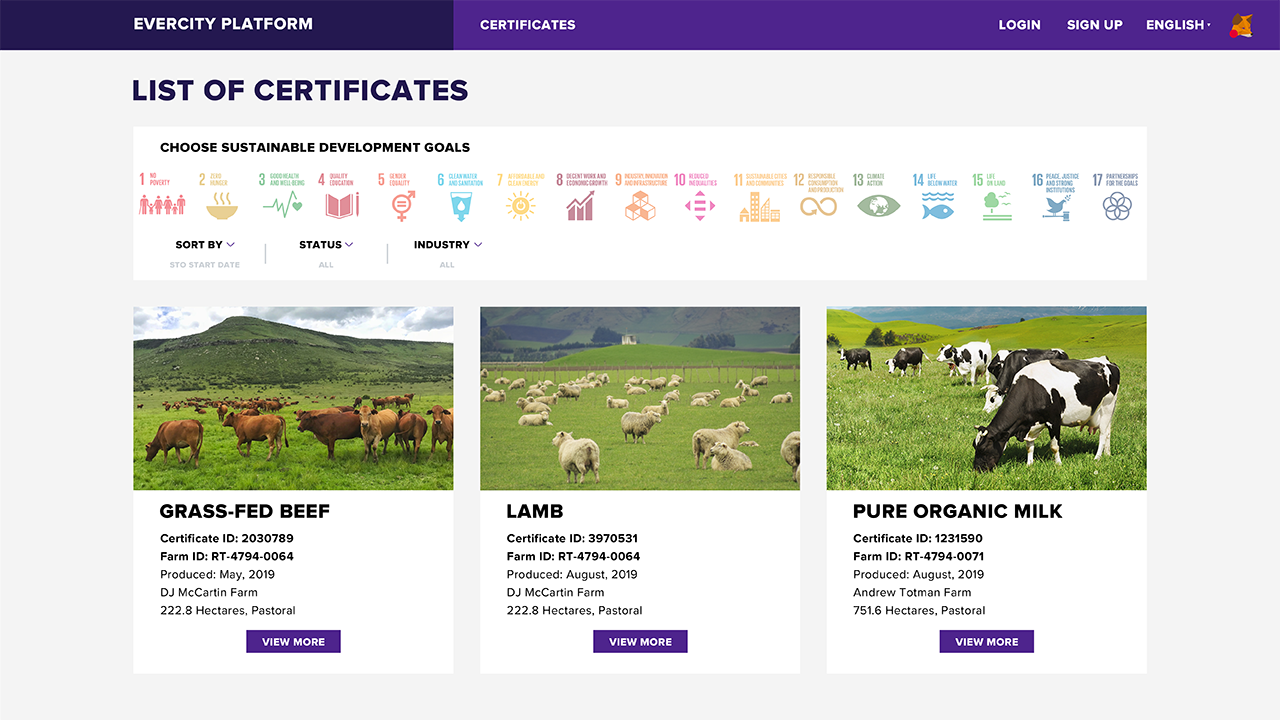 Within this project we used satellites and IoT to collect data on farms' environmental footprint, recorded the data in DAO IPCI blockchain infrastructure and issued digital passports of farmers produce. Watch demo.
4. Developed carbon market simulation game at Nazarbayev University, Kazakhstan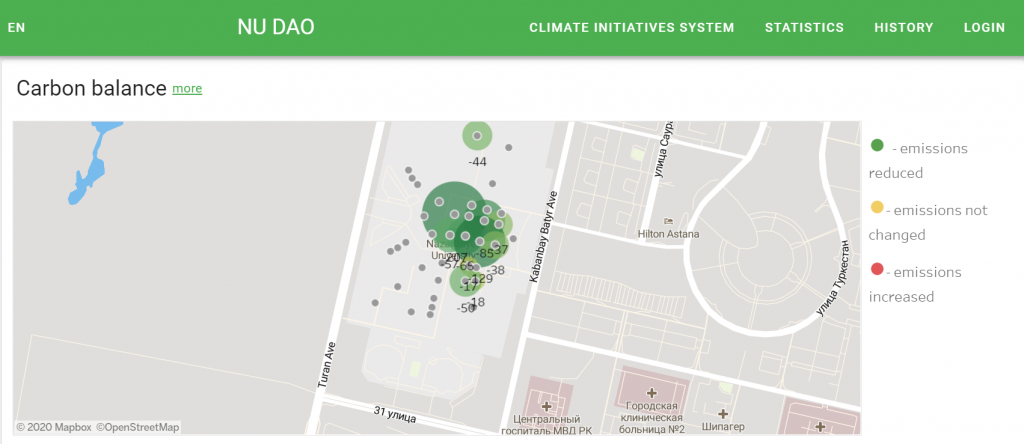 Within the project, university campuses competed on their carbon footprint and energy consumption. To offset CO2 emissions, they could use carbon credits which were issued on DAO IPCI infrastructure from a local renewable energy power plant. IoT devices linked to blockchain were used to collect data on energy consumption at university campuses, as well as to track renewable energy generation at the power plant. Watch demo. 
5. Issued renewable energy certificates from a solar power plant in Chile.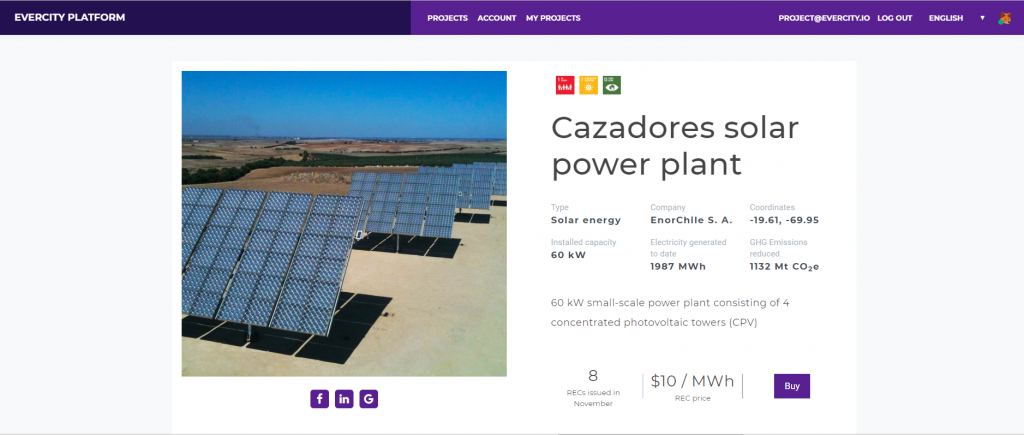 Within the project, we issued RECs from a 60 kW solar power plant in Chile. We collected data from smart meters installed on-site through direct API integration, which enabled automatic issuance of RECs. This case was presented at the UN Climate Conference COP25. View demo. 
III. DAO IPCI Github updates
After development and tests, in 2019 and early 2020 we have issued new DAO IPCI updates on GitHub.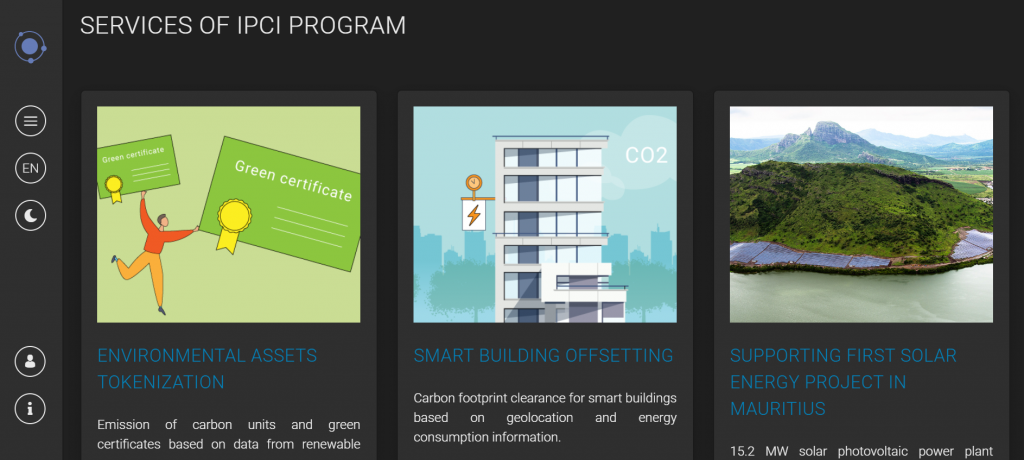 a) Issuance Service 
The service allows you to run an automated agent that (1) accepts logs with data from the IoT device and (2) issues green certificates or carbon units based on the specified data according to the methodology defined by the developer. This module was tested in 2019 on each of the 4 pilot projects described above. GitHub Repo
b) Offsetting Service
The service allows launching an automated agent that can (1) receive information about the electricity consumed by the user in a particular region of the world and (2) calculate the carbon footprint of the project by offsetting it with emission reduction projects already available at the site. GitHub Repo
c) Collector Service 
The service can work together with either the Issuing Service or Offsetting Service, allowing from automated data aggregation from IoT devices. This allows achieving complete m2m communication. This module was tested in 2019 at two projects: issuance of RECs in Chile and in Skolkovo. GitHub Repo
d) User-friendly UI for DApp DAO IPCI
You can see the new interface at new.dapp.ipci.io. DAO IPCI DApp updated interface is designed to simplify the work of users with the platform and bring the use of services to the first place. The new UI is still undergoing testing but is already being used when working with pilot projects. GitHub repo 
IV. DAO IPCI integration with Robonomics and Substrate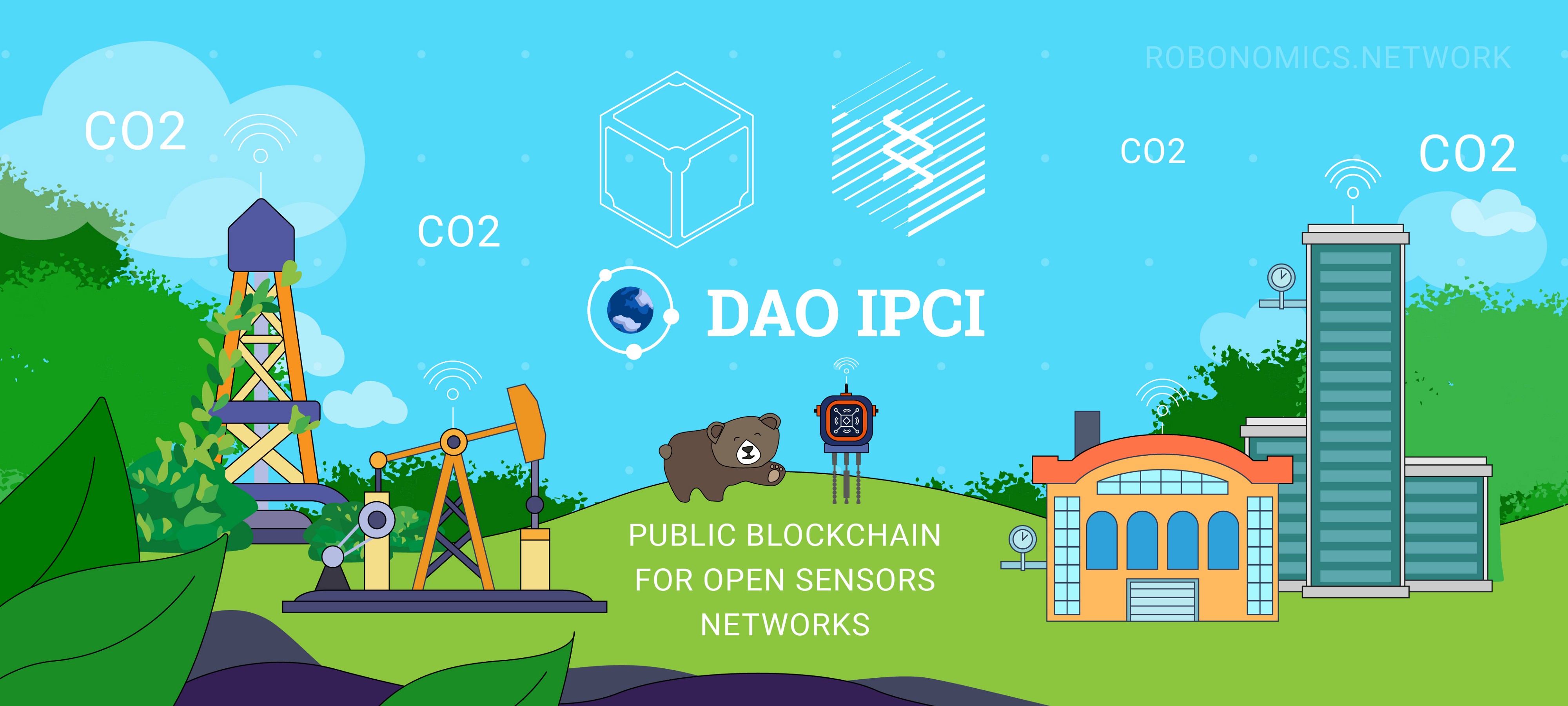 Since the beginning of December, we have been preparing to launch a separate DAO IPCI chain on Substrate - framework of Parity Technologies which allows easily building custom blockchains on top of Polkadot network. The first public announcement of DAO IPCI on Substrate was made at COP25, at UNFCCC side event "How Digital Technologies can Support Climate Action". 
We have made a release on Jan 28, and for more than a week already the IPCI chain keeps being among the leaders in Polkadot telemetry by the number of issued blocks!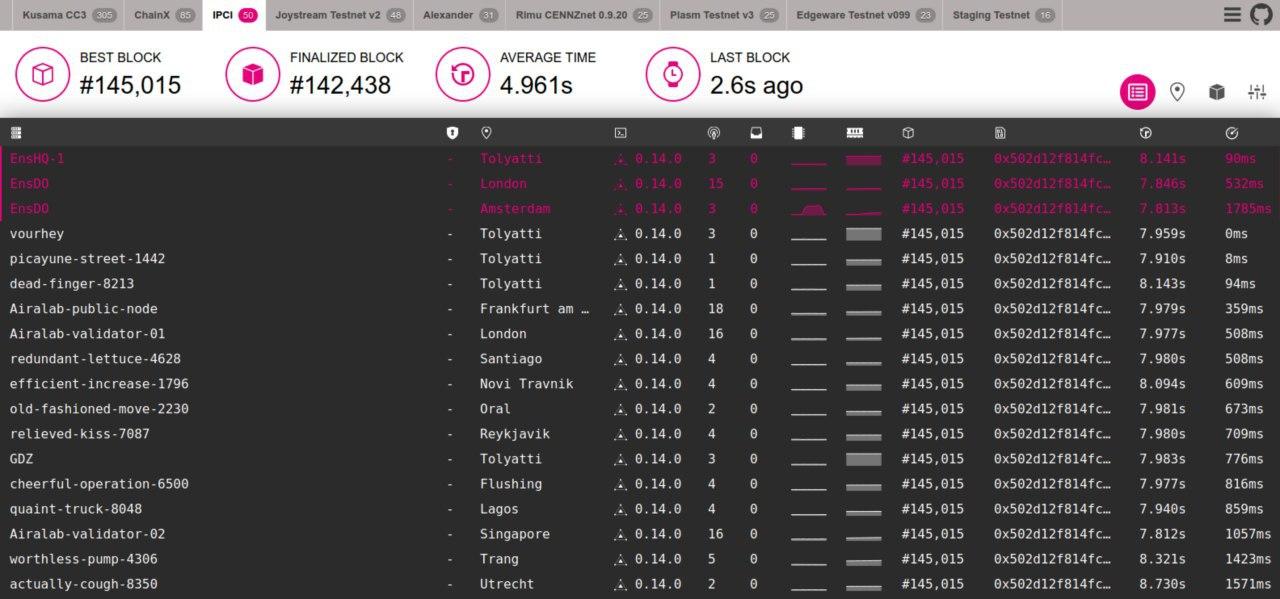 Parity Substrate framework allows performing transactions significantly faster and cheaper compared to Ethereum mainnet. At the same time, it keeps decentralization and transparency using NPoS (Nominated Proof of Stake) consensus mechanism. 
This is why we choose this framework for launching a new initiative on DAO IPCI which implies collecting a large amount of environmental data and storing it securely on blockchain.
Technical parameters of the new DAO IPCI network
V. Important community information
By the end of March 2020, we will restart the IPCI chain from a new Genesis block (more details available here). From March 5 to March 15 we will review existing accounts of DAO IPCI (MITO) and Robonomics (XRT) token holders, so if you have some of these tokens we highly advise you shift them from exchanges, multisig and hardware wallets to EOA clients such as Metamask, MyCrypto, Geth before March 5 and not move them until March 15. 
Genesis stakeholders:
MITO on Ethereum Blockchain token holders, Robonomics token holders, Evercity team, DAO IPCI early supporters. Total number of MITO emission for a start period ~ 2,500,000 MITO
Contacts:
Participate in the Public Blockchains for open sensors network initiative
At UNFCCC side event we announced a program "Public Blockchain for open sensors networks" which aims to educate climate action NGOs to implement IoT and public blockchain for transparent and immutable storage of data on air, water and soil pollution. First participating NGOs will get free smart sensors, which will be tuned for automatic upload of data into public blockchain built with Parity Substrate framework. Other organizations will receive free technical support to connect their own sensors to the network. DAO IPCI will provide opportunity to publish data from smart sensors into blockchain for the next 2 years.
We are inviting eco activists and non-profit organizations from all over the world to participate. 
Contact us to participate in the program:
- Participation in the program: info@evercity.io 
- Technical issues: research@robonomics.network